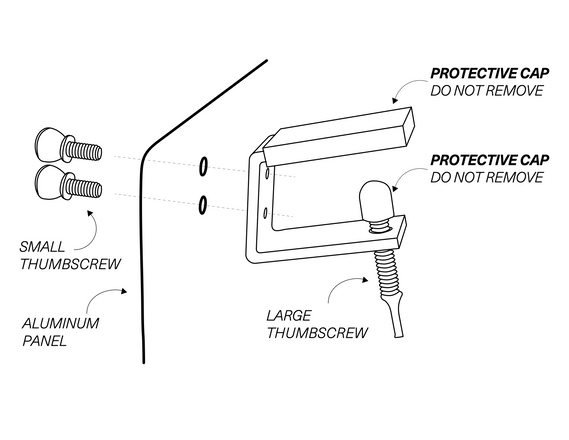 Step 1: Clamp Assembly
NOTE: Some clamp assemblies come with one small thumbscrew

1A: Turn LARGE THUMBSCREW down slightly on all three clamps to maximize gap.

1B: Remove two SMALL THUMBSCREWS from the back of each clamp.

1C. Align the holes of clamp with the holes in the aluminum panel.

1D: Hold the clamp in place, and reinsert the SMALL THUMBSCREWS through the back of the panel.

1E. Fasten screws to the clamp in both holes until clamp is tight. Repeat two more times until all 3 clamps are fastened securely. Aluminum panel should be in between the thumbscrews and the clamp.

DO NOT REMOVE the two high temperature resistant protective covers per clamp. These are intended to protect your patio heater from any scratches and increase the grip of each clamp.